It's the middle of October and, undoubtedly, my mind usually starts thinking about the upcoming holidays.  I know, it's not even Halloween yet, but…..between kids and baking and shopping and wrapping and planning and shipping gifts across the country, I find I need to "wrap" my head around things early so I feel like I have a plan and that I am in control of the unstoppable holiday train.
AND….with all of that holiday planning comes the bills.  The expense.  The financial planning to pay for everything, even if our wish list is reasonable.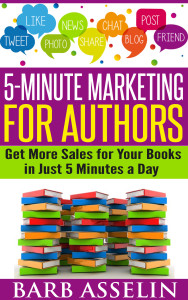 SO….what suffers?  Book marketing!  At least for me, that is.  I spend less time and money marketing my books.  I rely on my quick marketing techniques – things that will take only 5 minutes out of my day so that I can focus on other things.
If you find yourself in the same situation as me, I've got a good solution for you.  A while ago, I published a book called 5-Minute Marketing for Authors.  It includes a wide variety of marketing solutions that will take you only 5 minutes a day.  You'll also find a 90-day complete marketing plan plus a customizable plan just for you!
Best of all – it's totally FREE!
Check it out and jump aboard the holiday train without worrying about marketing your books during the busy season!
Barb