We currently have three authors writing and publishing books with us. If you would like to visit each author's website directly, here are the links:
Barb Asselin
Barb Asselin is a college professor and best-selling author who is published in many different genres including education, law, real estate, writing, online business, golfing, crafting, cooking, parenting, internet marketing, entrepreneurship, baby sign language, various non-fiction, and children's books.
She is an avid reader of many different genres and has been passionate about writing since grade school when she wrote her first short story about vampires. This was in the 1980s….way before Twilight!
Barb has been creating and administering websites and social media accounts since 2006. She loves to learn and apply the latest traffic techniques and online sales strategies to see what works best. Her daughters call her a "computer geek" and she is OK with that.
She loves to teach through her courses, books, and textbooks, and strives to make a connection with each student and reader. Barb lives in Canada with her husband, Mike, and two adorable daughters, Casey and Jamie. They enjoy music, skiing, golfing, running, and family vacations.
Lacey Edward
Lacey Edward was born and raised in Canada. She writes mainly paranormal romance fiction but enjoys throwing in a little mystery and suspense for good measure and to keep things interesting. Her first experience with vampires was the Barnabas Collins book she read in grade eight. She devoured it and never looked back – well, maybe over her shoulder once or twice.
Lacey lives in the country with her husband and two daughters. They enjoy skiing and sliding in the winter, swimming and boating in the summer, and visiting the local bookstore all year long. Lacey also tries to keep up her mixed martial arts skills, just in case one of her unsavoury characters comes to life…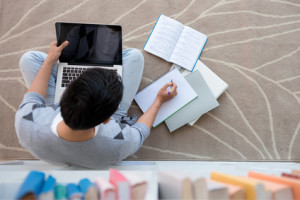 Riley Lucas
Riley Lucas was born and raised in Canada. He is fascinated with movies and Hollywood and loves to write about the stars. His first movie experience was The Terminator and since then, he has never looked back.
Riley lives in Canada with his golden retriever, Maggie, and enjoys skiing, golfing, flying, reading, and watching movies.  On rainy days, Riley and Maggie can usually be found binge-watching a new series on Netflix.